How to find affordable phone answering service for small business in New York, NY:
Are you losing business from callers who hang up before they ever get to your voicemail? If you can't afford to lose a single client to out-dated answering methods, there's an affordable solution that will ensure your callers are greeted by a friendly, helpful, live agent every time they call- all for a fraction of the cost of hiring a receptionist. The answer is our USAnswer live agent phone answering service for small business in New York, NY.
Our live agents are available to answer your calls 24 hours a day, 7 days a week, to provide your callers with professional, courteous service. You can expect our trained agents to answer your calls in the same way you would answer them if you were to pick up the phone. The difference is the money you'll save by choosing one of our plans. We charge only for the actual time our agents are on the phone with your callers, answering questions, transferring calls, or taking messages. We don't round up your time, and the clock stops when the call is completed.
If you don't have time to personally address every call coming in to your business, we can ensure your callers receive that personal touch while allowing you to portray that larger, more professional image you're striving to convey. Best of all, we'll free your staff up to do what they were hired to do, rather than man your phones. We employ the latest in leading-edge technology to deliver affordable results to our clients. We invite you to cost compare our service with those of any other phone answering service for small business in New York, NY; you'll find we are able to bring you the lowest cost, highest quality live agent service in the region.
If you're a start up, we can appreciate how difficult it is to keep a receptionist on your payroll. We have the perfect plan for your up-and-coming business that costs less than $100 per month. We call this our 60-minute plan, and it costs less per month than you'd spend on a front office for a single day. See our 'Plans & Pricing' section online to find a plan that fits your budget, or call one of our agents at 855-254-0040 if you don't happen to see a plan that meets your needs. We'll create a custom plan that reflects your monthly requirements and allows you to experience our services in a way that is affordable to you.
If you're not already using a phone answering service for small business in New York, NY, you're most likely losing business. Callers who are routed to voicemail drop the call an average of 80% of the time. You can give your customers a better experience when they reach out to your business. Chat live with an agent now over our website to find out more about how we can help.
Related Posts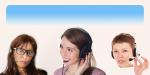 Why trust USAnswer? There are numerous reasons why our clients continue using our services year after year. Compare the costs of hiring our live agents to manage all of your incoming phone calls with any other local service and you'll find we offer a tremendous value at a low cost. Consider everything we offer at the incredibly low prices of our plans and …