Looking for a better way to provide your callers with the personal touch they deserve when they reach out to you? At USAnswer, our clients tell us our live phone answering service in New York, NY is the most affordable solution to providing a warm and friendly voice over the phone. Our services will allow you to manage the core duties of your business rather than run to the phone every time you hear it ring.
If your business is currently experiencing growth, you may have recently noticed that your incoming calls are more than your staff is able to manage. We'll keep your callers satisfied with the level of service you provide to them by answering your call with a live operator who has been trained to answer your calls in whatever way you prefer. When one of our agents receives a call from one of your clients, they'll see a screen pop up on their monitor that will display your company information. Our agents can answer questions, take messages and transfer calls to your staff, depending on the nature of the call. The time you pay for stops once the call ends or is transferred.
Freeing up more of your time is just one perk you'll experience from our live phone answering service in New York, NY. A live answering agency can give your business that 'professional' image you're striving to maintain, and can ensure every caller receives that warm and friendly personal touch they deserve when they reach out to you by phone. Your employees will appreciate being able to focus on the job they were hired to do, rather than run to the phone or become distracted from their job at hand.
Our live phone answering service for New York, NY businesses is not only advantageous to your company, it's unbelievably affordable. If you're just starting out in business, you may be using voicemail to manage your calls due to the high costs of hiring on a receptionist. In this case, you'll find our services to be priced in a way that will fit your budget. Our 'start-up' plan is just $98 per month, and includes 60 minutes of connection with our live agents. Most start up businesses find this plan is able to meet the needs of their callers- and if you grow beyond the plan, just step up to one that offers more minutes for just a few dollars more each month.
For about the same cost of keeping a live receptionist on hand for a single day, our live agents can answer your calls for the entire month. We'll make sure your callers are greeted in the same, professional manner you would answer your own phone, and we'll free up more of your time to grow your business. Find out more by clicking our Live Chat link on any USAnswer website page or call us at 855-254-0040 with any questions about our live phone answering service in New York, NY.
Related Posts

      #1: Are live agents knowledgeable and able to respond to your caller's questions and concerns in the same, professional way you would if you had picked up the phone? If you're unable to obtain an answer to this question, keep looking. At USAnswer, our agents are professionally trained to address your callers with a friendly, warm greeting, providing that personal touch you want for your …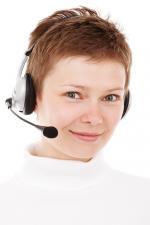 To make the determination to employ an answering service could be a difficult one. All things considered, you have had your trusty answering machine and computerized menu tree for a long time and you thought it has constantly done the job. The point is the fact that up to eighty two percent of your after hours callers are not leaving messages due to having to speak to your voicemail or answering …